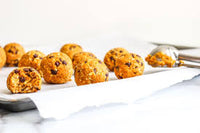 Pumpkin Spice Protein Bites
If you like our regular protein bites, you will LOVE these seasonal ones.  Just a slight difference, but somehow even better.
These powerhouse bites are a perfect breakfast, post workout fuel or between meal snack.  Come in packs of 10.  Refrigerate for 7 days or freeze for 90 days
Each ball has: 229 calories,98 g protein, 12 g fat, 5 g fiber, 20 carbs, 14% of your daily iron.
Ingredients: organic pumpkin puree oatmeal, chia seeds, hemp seeds, flax seeds, vegan protein powder, organic peanut butter, chocolate chips, spices, vanilla, agave, Pepitas